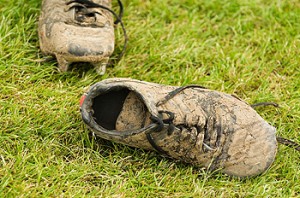 I'm sure that after each game, your football boots look horrible and dirty, especially if the area was muddy, during some of the winter months. If you want to learn how to clean football boots, in this article you will find some tips, given by the cleaners London who will explain to you the best way to deal with this task very quickly and effectively.
If you want to keep your football boots from looking ugly, you should clean them regularly after each game. Prepare a shoe brush, a kitchen towel and some warm water and follow the instructions below, given by a professional cleaner London who knows how to deal with every cleaning task.
1.Never use chemicals. This is a really important rule and cleaners London recommend following it. You can clean them using some warm water.
2.Remove as much of the mud as possible. You can use only your hands. When you are ready, grab a hard brush and continue with the cleaning.
3.Lightly coat the football boots in warm water. Remove as much of the mud as possible.
4.The cleaner London recommends that you should use a damp towel and work very gently the leather part of the boots.
5.Squeeze dry your boots' laces using the kitchen towel.
6.At the end, get a dry towel and buff the boots up.
You can receive more really valuable tips on how to clean football boots, if you contact the cleaners London and ask them for advice.