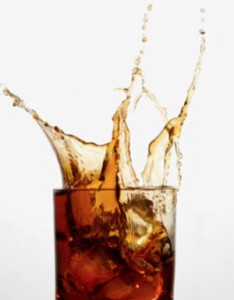 Coca Cola is one of the most popular soft drinks in the whole world. If you're one of the millions of people who are addicted to this drink, you may need a quick and efficiently way to get coca cola stains out of a carpet. Here are the steps you should follow to remove the dark stains.

1) Blot the spill with paper towels or a clean cloth immediately after the spill occurs.

2) To get the stain out of the carpet, Thomas Smith, a cleaning expert from Carpet Cleaning London, recommends that you use a homemade cleaner instead of one of the commercial carpet cleaning products which contain toxic substances. To make the cleaner mix:
1 tablespoon of liquid dishwashing detergent
1 pint of warm water
3) To apply the carpet cleaning solution on the coca cola stain, use a clean cloth. Damp it and then apply on the stain.

4) Rub the coca cola stain gently in a circular motion. Thomas advises you to go one way with the cleaner.

5) Once you've got the stain out of your carpet, put a dry, clean cloth over the treated area to absorb extra liquid. Place a heavy book on the cloth and let it sit overnight.

6) You may need to repeat the carpet cleaning procedure more than once until the stain is completely removed.
If coca cola is a part of your lifestyle, then you may find these carpet cleaning steps quite useful. Remember less coca cola you drink, less stains you should clean.