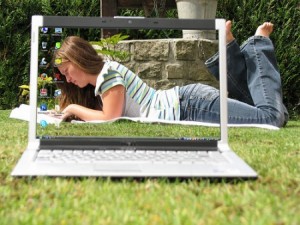 If you we are talking about cleaning a laptop screen, you have to be very careful, because you can damage a LCD screen very easily. Cleaning London experts will help you with a few tips and will explain to you the best way to clean a laptop screen. However, you should be well-known with the proper instructions of your monitor. My advice is: don't act until you are sure that this solution won't harm your screen.
Cleaners London can help you with every cleaning problem and can answer to each one of your questions. In this article, they will share with you a few tips on the best way to clean a laptop screen.
1.First of all, turn off and unplug the laptop. Prepare your supplies. Start with the cloth. Cleaning London professionals advise you to use only a 100%-cotton cloth, because it will absorb more. It's not recommended using paper towels, because they can scratch the screen.
2.The best way to clean a laptop screen is to use isopropyl alcohol, which you can buy in almost every supermarket. Make sure that you never use ammonia or mineral water, because you will not only damage the screen, but you will also leave spots and streaks. Cleaners London advise you to remember that you should not use a spray directly onto the screen. You should always use a soft cloth.
3.The experts from cleaning London services advise you to use anti-static cloths. They don't require to use any kind of liquid and very easily clean, polish and protect the screen.
For more tips, call a professional. Cleaning London services are always there to help.