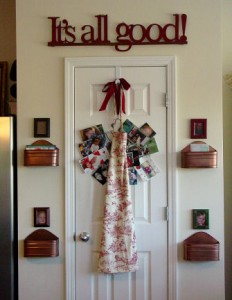 Have you ever noticed that a bad morning almost always hints for a bad day as well? If you had a stressful morning you might very well end up feeling the same way during the whole day. If you are late again for work or an appointment just because you can't find the car keys, your purse, watch, mobile phone, it's about time to put the house in order. Try to find a permanent place for your everyday needed items and things will go better. You should advise the other family members to use the same places as well.
As soon as you get back home try to hang your keys on a hook near the door or drop them in a dish on the nearby shelf. Place your purse always in the same drawer in the bedroom so that you could easily find it in the morning. Pick a spot for your cell phone too, maybe in the living room. Be sure to put it back there every time you have used it.
In this cold and rainy weather it will be pity if you forget your umbrella and get wet as soon as you go out. Put it somewhere near to the house entrance, next to your shoes, or your coat, for instance. In this way you won't miss it.
If you have a habit of taking off your rings when you wash the dishes, find a beautiful little bowl or a jewellery box on the counter and drop them always there. In the morning you won't spend hours looking for your precious.
If you try to keep this for only a week, you have taken the first step in turning it into a habit. Teach your family the same. If you use the services of professional cleaners Pinner Green is proud of you will have your home well cleaned and organized. Once a month provide a deep cleaning, like end of tenancy cleaning Pinner Green companies offer and you will find yourself less stressed and extremely relieved.