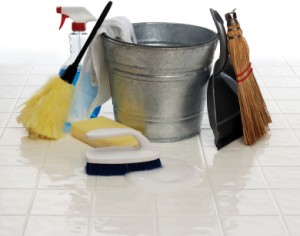 When having a regular cleaning done periodically, you need just 10 to 15 minutes from time to time to maintain the order you have for all your things and the tidiness of the rooms you got as a result. To buy different type of cleaning utensils and cleaners Clapham offers couple of shops you might like to check out, but for the maintenance clean-ups you don't really need any special equipment.
To do the fast clean up you need to know your goal and to bear it in mind. First of all, you need to put the things where they belong; it means to get rid of the rubbish, to put the things that belong to the different rooms in these rooms and to put the remaining into shelves. Without actually sorting through your clutter, you need to sort out quickly these three categories and go to the next step.
If you did the regular cleaning not so long time ago, you probably don't have to clean your floors every time you do the quick clean-up, getting rid of the dust from the shelves and vacuum cleaning can be quite enough. However, rooms are the easier parts of your house. If you have a dish washer, kitchen shouldn't cause any problems as well, since doing the dishes usually takes a lot of time and sometimes even effort, depending on what you are cooking. Cloth with washing liquid and couple of movements with the broom will make your kitchen clean enough to have the guests over.
The problem zone can be the carpets, if you have the ones that collect a lot of dust or the bright ones which show your visitors everything that has happened to them for the past few days – ketchup stains, cigarette ashes, footprints of your kids on the corner. There's no quicker way to do the carpet cleaning Clapham than hiding your carpets in garage or calling the cleaning company. Depending on your budget, it's up to you which solution to choose.